Name:
Nikki Haley
Position
: Governor of South Carolina
Party:
Republican
Age:
41
Career arc:
a. Clemson University with a degree in accounting.
b. Worked for a waste management and recycling company.
c. Worked for her mom at their family's clothing firm.
d. Named to board of directors for county and city chamber of commerces, served on boards of numerous local foundations.
e. Elected to SC State Congress (2004).
f. Elected Governor (2010).
WHO IS SHE?
Her real name is Nimrata Nikki Randhawa and she was born to Sikh parents in South Carolina. According to
Vogue
, Haley was always something of a tomboy with ambitions to become mayor of the family's small town.
After coming back from Clemson with a degree in accounting, she went to work for a waste management company; then her mother's own upscale clothing company, Exotica International, where she served as CFO. She tells Vogue that her time there convinced her that taxes and regulations could crush small businesses.
But she
was skeptical
about turning into an (R).
When she first pondered a run for the state legislature, she says, "I didn't even know if I was Republican or Democrat." The young Republicans she knew in college were "way too stiff." But her friends quickly set her straight: "Once I started talking about my views, they were like, 'G--, you're a Republican'! "
She also served on a number of boards and, in 2004, was
named president
of the National Association of Women Business Owners (war on women
that
).
Interestingly, when she ran for governor,
her mom outfitted her
with tons of clothes from the family-run and somewhat painfully-named, Exotica International clothing company.
ELECTORAL CAREER:
Her first race for office has become pretty legendary in political circles for a number of different reasons.
In 2004, at 32 years-old, she took on the longest-serving member of the South Carolina State House,
Larry Koon
, in the GOP primary..... and actually won.
During the GOP primary,
campaign flyers that supported Koon
said he was a "white male/Christian/ business owner", while claiming that Haley was an "Indian/female/Buddhist/housekeeper."
That kind of baiting shouldn't have come as a surprise, though.
At one point in his life, Koon
had said
.
"Women are best-suited for secretarial work, decorating cakes, and counter-sales -- like selling lingerie.
When Haley's campaign unearthed the quote, women went ballistic and Haley won the runoff (Fun fact:
She passed
out Krispy Kremes and coffee in neighborhoods while campaigning).
Six years later, she decided to run for governor and, once again, came in as the underdog in the GOP primary. She lagged in last place until Sarah Palin swooped in, waved her talismanic hand and Haley suddenly found herself in first place at that very 2010 Tea Party Moment in History.
Then things got utterly nasty.
A former consultant/gossip blogger claimed he had had an adulterous affair with Haley, and then -- incredibly -- a consultant for her opponent's campaign also claimed to have had an affair with her.
Neither could produce a smoking gun (or even anything beyond a toy pistol), voters dismissed the allegations as electoral hijinks, and handed Haley a convincing win in the primary runoff and then in the general election.
TENURE:
She's had two high-profile, national fights already.
Her first came against the National Labor Relations Board when the group began crafting a formal complaint against Boeing for building a production line in the right-to-work state of South Carolina.
To file a successful complaint, the
NLRB would have had to prove
that Boeing's decision to build the line in South Carolina was a deliberate move to punish the union.
That would have been tough to prove, but it ended up being a moot point because the NLRB and Boeing came to an agreement and the board dropped its complaint.
Nevertheless, South Carolina and Boeing's battle became something of a
cause celebre
among national conservatives, and as governor of the state, Haley stood squarely on the side of Boeing. She brought Barack Obama into the debate when she accused him and his "NLRB" of suing the company.
The president was actually only indirectly involved, but
Politifact notes
that he did appoint the board's general counsel and so you could indirectly claim his administration had a hand in the dispute -- even though the White House publicly washed its hands of the dispute.
The point is -- Haley picked up nice cred from national conservatives during the dispute, Boeing got to build its production line, and Haley used the win during
her RNC speech in 2012
.
"We did one of the things we do best in South Carolina — we got loud," Haley said according to her prepared text. "And guess what, we won."
Haley also warred
with the Obama Administration for fighting the state's immigration law and voter ID laws, and she continues to claim that she won't set up Obama Care's state-based exchanges.
Yet many of the tea partiers who handed her the state in 2010 have cooled to her and, in some cases, abandoned her.
Her sins?
She endorsed Mitt Romney
before the South Carolina primary, provoking the usual rounds of "RINO!" and her political capital took somewhat of a hit when Romney flamed out in the primary, which seemed to cast doubt on her cachet. And other
tea partiers complained
that she hadn't pushed through enough reform during her tenure.
But Haley can point to a number of accomplishments conservatives can like --
she signed
tort reform that put a cap on punitive damages and Forbes
has praised her
for "leading a series of closely watched reform initiatives" that might align "the public and private sectors to drive a market for improved healthcare in her state -- something that appeals to both Obamacare's and the GOP's core."
One more move that certainly helped improve her frayed relationship with the tea party? Picking rising conservative star, Tim Scott, to replace Jim DeMint in the Senate.
WHY THE IRE?
Haley has provoked considerable ire -- not only from her opponents in the state, but also from ostensible allies -- like Republican legislators during her first term.
And the negative rub goes like this: if your own party is
dissing you
, then you're really up to no-good.
But you have to think about one of the reasons Haley has upset GOP legislators.
As
The New York Times noted
, one of her boldest moves as governor was a push to force legislators into roll-call and not anonymous voice votes.
That was the exclamation mark on an effort to increase transparency
that began
when she was a new member of the State House.
The issue she championed most ardently was transparency—specifically, a bill she filed that would force lawmakers to publicly record their votes on bills (South Carolina is one of the few states that don't require this). "She showed the good ol' boys right away," says Ashley Landess, president of the South Carolina Policy Council and an ally on the issue.

A study by the group showed that only 8 percent of House bills involved recorded votes. "I went across the state," Haley recounts, "and I said, 'If you didn't know how your House member voted 92 percent of the time…how is it that you know who to vote for when you go to the polls?'?" The bill never became law, and Haley says the House leadership retaliated by stripping her of a subcommittee chair in 2008.
So, to understand the legislature's long beef against Haley -- imagine this. You're an entrenched legislator and you watch this spunky youngin' beat the longest-serving member of your body, and then she comes in and tries to shine a light and upend the way you and your buddies legislate.
That's not a recipe for mutual, undying love.
But the
Daily Beast notes
that Haley hasn't exactly worked to smooth tensions since becoming governor and often seems to revel in her adversarial relationship with the legislature.
I've been blogging about her since 2010, as well, and that's undoubtedly been her biggest, personal flaw. In Haley's story, someone is always trying to stop her, and while that's usually true, she seems to have the habit of standing on her vanquished foes rather publicly.
But that spunk, that fight, that spirit shows up in nearly every aspect of her life, extending even to her ipod.
She likes
Fleetwood Mac, The Go-Go's, and especially,
Joan Jett
, telling
Marie Claire
:
"When I am going through the toughest times, I'll blast her music. She was one of the first female rockers when female rockers weren't accepted. When no one would sign her, she created her own label. And when she accomplished everything ... she walked away! I mean, how cool is that?"
SPOUSE = Captain Michael Haley
The Haley Family (daughter and son), as husband Michael leaves for Afghanistan (photo : AP/Rainier Ehrhardt
Michael graduated
from UNC in Charlotte with a degree in Business Administration, then completed officer training at the legendary Fort Benning. He's currently a military technician for the National Guard, and was deployed this month to Afghanistan, where he'll serve the entire year.
The story you'll read in nearly every profile goes like this -- after they started dating,
Nikki persuaded
her future husband to ditch his first name (William) and start using his middle name (Michael) because he looked more like a Michael.
BOOK?
Yup, she's already got the memoir, published in April 2012, and the high-profile media tour that went along with it. Now the question is whether she'll produce the obligatory policy follow-up tome.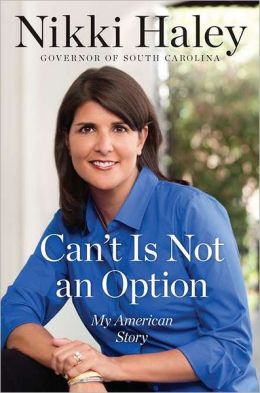 CAN SHE WIN?
She's won every race that she's ever run -- even while starting as the heavy underdog in each one.
That speaks to something everyone says about her, friend and foe: she's relentless. To become the first female governor of South Carolina and the first Indian-American governor and to do that at 38 years-old, you sort of have to be.
Here's another thing: she's victim to one of the most ubiquitous forms of sexism -- the one that says relentless women are somehow unseemly in their ambition. You can see the sexism in the way her opponents literally seethe with unnatural hatred toward her.
And for some reason, it seems the most vituperative lashes at her come from fellow women.
There was the retiring, female labor leader who
used her face as a pinata
, there was the Time editor (also female) who
bizarrely asked
if Haley gave Sikh taxi drivers bigger tips -- even after Haley said she was Christian, and there was a female volunteer at a school who was arrested last month
for threatening Haley's life
before she came to visit the school.
Haley seems to provoke visceral reactions -- both positive and negative -- that successful politicians need to provoke.
Of course, Sarah Palin also provoked those reactions, and as a young, female, attractive, Republican governor, Haley will be inevitably compared to Palin.
But Haley is more fluent and sharper on her political feet than Palin, and that was Palin's primary stumbling block. If Palin had only been stronger in that area, she could have been president. Haley has Palin's strengths without her weaknesses.
As Arian Campo-Flores wrote in
The Daily Beast
:
While the former Alaska governor often seems tongue-tied and uninformed, Haley comes across as sharp and articulate.
Haley is one of two possible, female GOP nominees in 2016 -- the other is
New Mexico Gov. Susana Martinez
.
They're an interesting comparison.
Martinez has all the popularity at home that Haley doesn't, but Martinez seems less ambitious (as far as 2016 goes) than Haley (one example:
Haley recently spoke
to The Heritage Foundation about "The Road Ahead after the 2012 Election". Martinez has avoided gigs like that).
If you could combine Martinez's popularity with Haley's ambition, the GOP could have the perfect female candidate.
That doesn't mean Haley's weak, but she'll have to do a few things to emerge as a first-tier candidate.
a. Oversee a stronger economy.
South Carolina's unemployment rate currently sits
at 8.4%
, above the national average. To be sure, that's come down from its hideous peak of 12% in 2009, but it will need to fall further if she's going to boast about a Carolina Comeback, and residents
aren't
terribly optimistic about the state's direction.
Making things tougher, her potential GOP opponents have much stronger economies to boast of -- Bob McDonnell has Virginia at 5.5% unemployment and surpluses, Bobby Jindal's Louisiana also has a remarkably good
5.5% rate
, Chris Christie can talk about his epic battles with the unions and pension reform (although his "Jersey Comeback" is more mythological than real).
The point is -- Haley has to bring something other than her compelling personality, story, and political chops to the table. Especially as a governor. She needs an "I did this" that stands out in the crowd. That's what voters expect from governors, and Haley doesn't have it yet.
b. Win a resounding reelection.
Haley's approval ratings are awful, considering she's a Republican governor in a red state, and has largely like-minded constituents.
The
most recent poll
measuring her approval came in December and Haley sat at just 38%/41% for -3%.
Here's the mind-blower.
Barack Obama's approval rating in the state sat at 48%/41%, a net 10 percentage points higher than Haley's! In South Carolina!
As a Republican incumbent, Haley will likely win reelection, but she has to do it impressively to pique national Republicans' further attention.
There are simply too many other good GOP governors who are popular in their state to take a chance on one who isn't popular in hers (in fact, think of this oddity -- Chris Christie scores much higher approval ratings in blue New Jersey than Haley does in red South Carolina. That says something).
Upshot? Haley will get attention, thanks to her personality and profile, but to take it to the next level, she needs popularity at home and a wow accomplishment in her state. Right now, she's missing both of those.
Oh, and one more thing. Yes, she's already done
Vogue
.
Nikki Haley in Vogue (photo: Norman Jean Roy)
And here she is on The View last year.