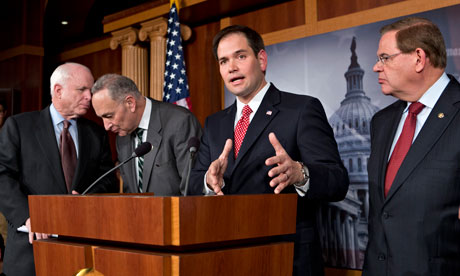 Photo: J Scott Applewhite/AP
A new
Des Moines Register poll
finds most Iowans supporting a path to citizenship for illegal immigrants.
58% think a path should be contingent on increased border security (ala the Gang of Eight's plan), while 19% think it shouldn't be contingent on stronger border security (ala Obama's plan).
That means 77% of all Iowans think there should be some path to citizenship for illegal immigrants.
And, most surprisingly, there seems to be bipartisan and even
tea party support
for path to citizenship.
Iowans who live in rural areas, those who identify as Republican or with the tea party, and those who hold no more than a high school degree, are more likely than Iowans overall to oppose a path to citizenship for illegal immigrants.

But even among their peers, they are in the minority: Opposition to citizenship peaks at 27 percent in these categories.
As far as 2016 goes, this should give some encouragement to potential, GOP presidential candidates urging the party to shift on immigration.
Rubio's future is especially tied up in all this, since he's spearheading the Republican reform effort, and has consistently held a solid lead in hypothetical Iowa matchups. Thus, he has the most to lose.
[Hat tip:
RCP's Tom Bevan
]